When:
May 1, 2018 @ 8:00 pm – May 2, 2018 @ 12:00 am
America/New York Timezone
2018-05-01T20:00:00-04:00
2018-05-02T00:00:00-04:00
Where:
House of Yes
2 Wyckoff Ave
Brooklyn, NY 11237
USA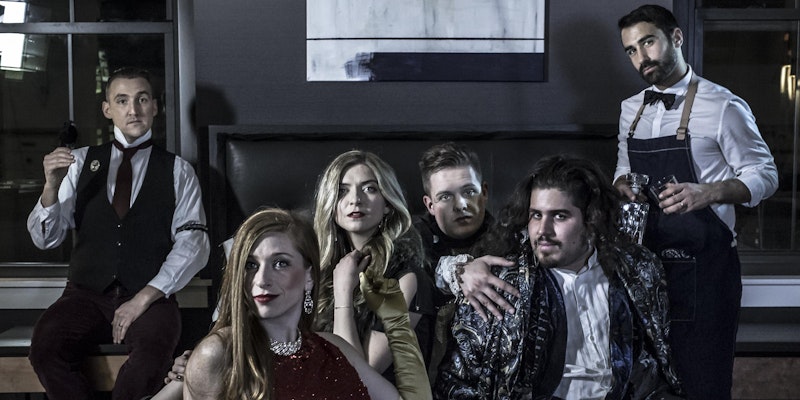 DESCRIPTION
Welcome to a unique and immersive poetry event that takes poetry outside classrooms and lecture halls and places it in the lush interiors of a bordello. The Madame presents a rotating cast of poets, each operating within a carefully crafted character, who impart their work in public readings, spontaneous eruptions of poetry, and most distinctly, as purveyors of private poetry readings on beds, chaise lounges and in private rooms. For a small fee, all of the poets are available for these sequestered readings at any time during the event. Of course, any true bordello need a good cover; ours is an immersive cabaret featuring burlesque, live music, vaudeville, aerials, visual art, magic, mysticism, with newly integrated themes, performances and installations at each event.
On May 1st, The Poetry Brothel returns to the infamous House of Yes for a night of literary pleasure guaranteed to tingle the spine and excite the senses. Prepare yourself for an evening bound to impress those with a deep, dark sensibility. Featured performers include burlesque babes Mademoiselle Estelle and Puss N Boots, and, of course, your poetry whores, Monah Mayhem, Penelope Strangelight, Pavlina Vera, Fraulein Kuchen, Hypatia Rose Wonderland, Bambi, Velvet Envy, Elise Houcek, Keighly Baron, Selina Katerina Elizabeth Valdeth, Celestia LaFolle, Harrison Stone, and The Lost Boys.
Other diversions include Tarot readings by Rebecca Fey, live sketches by Too Loose, palm reading and handmade jewelry by Holy Crow, body work by Jeremy Friedman, and a photo booth by Fitzpatrick Entertainment. As usual the festivities will be presided over by your hosts Mister Charley, The Madame, and the rapscallion, Tennessee Pink.
Doors open at 
8pm
; staged performances begin at 
9pm
. Themed costumes and/or vintage formalwear are encouraged but not required.
This event is 21+
For details about this particular event, including themes and featured performers, please visit 
thepoetrybrothel.com
---
Behave with beauty, connect with intention. 
We are obsessed with CONSENT.
Always ASK before touching anyone in our House. 
Anyone who cannot follow this simple rule 
will be escorted to the sidewalk.
::::::: Community and Accessibility :::::::
This is a space for everyone to feel welcome and loved. Racism, sexism, ableism, homophobia, transphobia, xenophobia will not be tolerated at our House. All entrances and spaces within the venue are single-level and handicap accessible. There are stairs leading to the upper portions of the stage, for those who wish to dance in the spotlight. Gender neutral bathrooms are easily located throughout the venue.
http://sexpositivecity.org/wp-content/uploads/2016/11/sexpositive-logo-300x254.jpg
0
0
JBirkner
http://sexpositivecity.org/wp-content/uploads/2016/11/sexpositive-logo-300x254.jpg
JBirkner
2018-03-13 20:38:24
2018-03-13 20:38:24
The Poetry Brothel: Dungeon